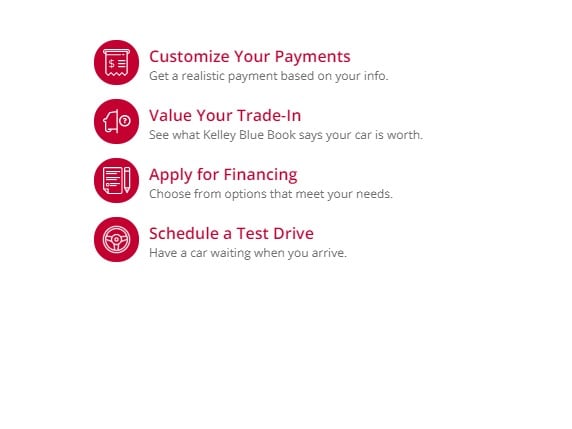 Buy Your Car From the Safety Of Home at Mathews Chrysler Dodge Jeep Ram
We at Mathews Chrysler Dodge Jeep Ram are totally eager to work with you through finding the perfect model, and we are committed to doing this online, and by your side. We know that times are changing rapidly, and with our help we are certain that you can easily and seamlessly find the vehicle that you love without having to risk exposure to others. We wanted to take a moment to detail how important our online retailing process is, and to show you exactly how easy it can be to buy your car online and get he vehicle you love in this new day and age.


Our Purchasing Tool Makes Car Buying Easy
When you opt to customize your deal with us, everything is made easier. This process is more streamlined and more efficient, helping you to get the vehicle that you both need and want in a timely fashion, as well as in a safe manner. Check out the steps to this process, and all that we can offer you in the online car purchasing realm. Making your life easy is the top goal of ours, and we can't wait to truly get started.
Online Inventories: The first part of the process is to find the right vehicle. We have a huge selection of models available, and we illustrate this with both our new and used vehicle options. These options show off an incredible selection, one that you will certainly be able to find the vehicle of your dreams within. Whether you are looking for a perfect family vehicle, and adventure SUV, or a tough truck to crush those hard jobs, we have got your back. These inventories are conveniently displayed on our website so that you can access all of the vehicle information that you need. Once you've checked out both of our expansive inventories, you can then begin the online car buying process.
Online Pre-Approval: The next step in the process is to gain online pre-approval with us. We have a helpful online form that you can fill out to achieve vehicle pre-approval. This form can be started and stopped as frequently as you need, and can even be finished up in store. Though car buying has mostly become and online process in the past few weeks, we are always looking to give you options. With this form you will be able to work through the logistics and ensure that you are financially set up to succeed.
Test Driving Your Vehicle: The next step in the process is to schedule a test drive with us. We know that you need to find out if the model you have chosen is right for you. So, through our purchase from home options we will be glad to bring the vehicle to you for a test drive. We know that with our help, you can easily decide if this model is the one you want to go with. We do everything totally contactless, to help ensure that you are safe and comfortable throughout the process.
Assessing Your Trade In: Finally, we can also assess your trade in vehicle. We are eager to give you the visit you require to really take a look at the vehicle you will be trading in. We know that a trade can drastically alter the price of the vehicle you are interested in, and we are eager to help you find the right value.
As you can see, we are totally eager to help out the Vernon, Newark, Delaware, Columbus and Westerville area residents find the right model, and to do so in a way that keeps them safe and makes their life easier.