Why Buy at Mathews of Mount Vernon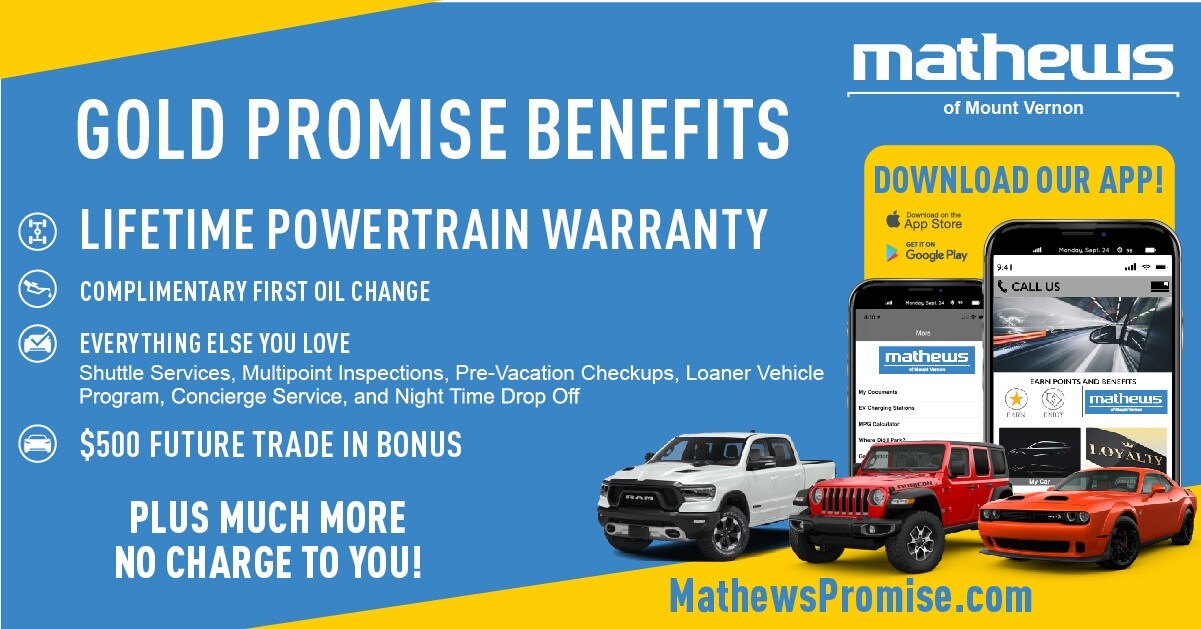 WHY BUY FROM US?
At Mathews of Mount Vernon, we've got something for everyone. Need a rugged Ram 1500 truck with plenty of towing power to handle a tough construction job in Delaware, OH? Prefer to cruise the streets in a Dodge Challenger with a powerful V8 HEMI engine? Or looking to take family trips in something comfortable with plenty of cargo space, like a Jeep Grand Cherokee? We have a vehicle for every lifestyle. But we've also got another reason why buying from Mathews of Mount Vernon is a smart choice.
THE MATHEWS PROMISE
We want to build long-term relationships with our customers, and that's why we've come up with the Mathews Promise. When you buy a vehicle from us, you automatically receive, for free, our Gold Promise package, featuring lifetime vehicle benefits and awards, beginning with a lifetime powertrain warranty. If you'd like even more benefits, our Elite Promise package may be for you. Optional 5-year roadside assistance, windshield and paintless dent repair. We'll even repair or replace damaged tires and rims, including cosmetic damage. And both programs give you a future trade-in bonus, so when you purchase a vehicle from us, you've already saved at least $500 on your next car, truck, or SUV. Let's take a look at what each program offers.
GOLD PROMISE PACKAGE
The Gold Promise package is free for every driver who buys a vehicle from Mathews of Mount Vernon. The chief benefit is the Lifetime Powertrain Warranty, which provides protection for the key component groups that are essential to keeping your vehicle running: the engine, transmission/transfer case/all-wheel drive assembly, and drive axle assembly. Here's a list of the benefits you'll enjoy when you buy a car from us:
Lifetime Powertrain Warranty
$500 Credit for Future Trade-In
Complimentary First Oil Change (New Vehicles Only)
Multipoint Inspections
Pre-Vacation Checkups
Loaner Vehicle Program
Shuttle and Concierge Services
Nighttime Drop Off
ELITE PROMISE PACKAGE
Want to ensure your ride stays looking as pristine as when you leave the lot for the first time? Want to avoid the worry and hassle that comes from unexpected breakdowns? Mathews' Elite Promise package does the work for you, offering you all the benefits you read about above in the Gold Promise package, and more. We upgrade the Gold Promise trade-in amount to $1,000, so you're already ahead when you're looking for your next car, truck, or SUV. Then, for the next five years, you'll also get convenience-oriented benefits like key fob recovery and roadside assistance. Plus, to keep your car looking good, we'll take care of front windshield chips and cracks up to two inches. Erase dents and dings up to four inches. Repair or replace damaged tires and rims, and we'll even give you Unlimited repairs on cosmetic damage to your alloy or steel wheels. Here's a list of the additional benefits you'll receive for the next five years:
$1000 Credit for Future Trade-In
Key Fob Recovery
24/7 Roadside Assistance
Repair/Replacement of Tires and Wheels
Cosmetic Repair of Wheels
Windshield Chip and Crack Repair
Paintless Dent Repair



PROMISE REWARD POINTS
Part of the Mathews Promise is our Reward Points program. Whenever you bring your car, truck, or SUV in, you earn reward points that can be redeemed for up to $250 off of service. Or, if you're looking to purchase another vehicle, we'll sweeten the deal by offering you double the reward dollar value as a credit. That's up to $500 savings on your next vehicle.
From Westerville, OH to Newark, OH, we've been putting people behind the driver's seat of a new or used vehicle. Our wide selection of inventory is what brings people into Mathews of Mount Vernon, less than an hour from Columbus, OH, but part of what keeps people coming back is the Mathews Promise.